Over the last few months, my opinion of Elon Musk has gone up and down. Some of his actions make him appear to be the free speech champion we desperately need in Big Tech. Other moves are absolute head-scratchers. This latest one is the latter, and may represent the third-biggest threat he poses.
The biggest threats is his embrace of transhumanism and his potential ties to the globalist elite cabal, but I'll tackle those issues another time.
Today's move brings censorship of a form not hitherto seen on Twitter. The company prohibited sharing of other social media content from "competitors" like Truth Social and Facebook IF the purpose of the Twitter account is solely to promote the other platforms. Even under the previous authoritarian leftist regime, one could share their other profiles. Elon's Twitter has banned it.
One can argue that it's a good business decision, but it does NOT align with the ideas of free speech that Musk allegedly embraces. Here's an article by Rick Findlay at Reclaim The Net with the details followed by my commentary:
New Twitter Policy Limits Promoting Rival Social Platforms
Twitter has banned its users from linking to and promoting their profiles on other social media sites like Mastodon, Facebook and Instagram, and more.
"We recognize that many of our users are active on other social media platforms," Twitter announced in a tweet. "However, we will no longer allow free promotion of certain social media platforms on Twitter."
---
As the banking collapse heats up, there's no longer time to procrastinate about moving retirement to physical precious metals. Here are the four companies we vetted. They are patriotic, America First companies that do NOT donate to Democrats, work with the CCP, or embrace CBDCs. These companies actually love America and can help you protect your life's savings.
---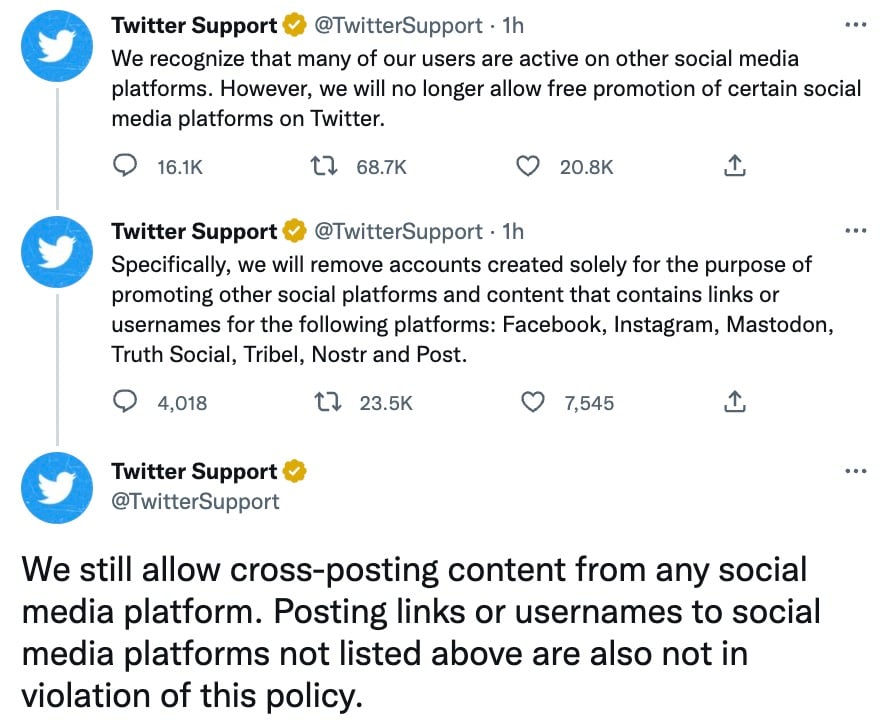 Twitter added, "Specifically, we will remove accounts created solely for the purpose of promoting other social platforms and content that contains links or usernames for the following platforms: Facebook, Instagram, Mastodon, Truth Social, Tribel, Nostr and Post."
While the tweet did focus on accounts "created solely for the purpose of promoting other social platforms," the actual policy page doesn't make this distinction. There, it says Twitter will remove "any free promotion of prohibited 3rd-party social media platforms." Emphasis ours.
The social media platform said that it will "still allow cross-posting content from any social media platform," but that, "posting links or usernames to social media platforms not listed above are also not in violation of this policy."
Twitter gave some examples of what was now banned:
Prohibited platforms:
Facebook, Instagram, Mastodon, Truth Social, Tribel, Post and Nostr
3rd-party social media link aggregators such as linktr.ee, lnk.bio
Examples of violative content:
"follow me @username on Instagram"
"check out my profile on Facebook – facebook.com/username"
The policy, for example, appears to mean that Twitter users leaving for Mastodon or Post aren't allowed to tell their followers to follow them there instead.
Penalties for breaking the rules include tweet deletions and account bans.
Twitter says it will also now ban links to social media profile pages such as linktr.ee. These services offer a page that users can use to showcase all of their social media profiles.
Trying to subvert the ban, such as replacing the . in a link with 'dot,' will also be considered a violation.
Competitive Speech Is Still Free Speech
As I noted above, I get it that this is a good business move. Why should Twitter allow members of other platforms to use Twitter for the sole purpose of promoting their own content? If the previous regime at Twitter had made the move, I wouldn't be shocked. But this is being done under a guy who claims to embrace free speech. The two facts don't jibe.
The tenets of free speech on a particular platform mean allowing speech that might not benefit the platform itself. By preventing people from promoting their other profiles, even if they're ONLY using Twitter to promote those profiles, is adding a layer of censorship that adheres solely to business principles. It's understandable that a businessman like Musk would think this is okay; he wouldn't allow a Tesla to be used to promote a Chevy, for example. But framed in the fight for free speech, which he claims to be engaged in, this move is backwards.
Hopefully, he will reverse it soon.