(SHTF Plan)—Calls for mandatory face masks to return have surfaced once again in Australia, as the fully "vaccinated" county is seeing its eighth wave of COVID. Australian Medical Association Queensland president Dr. Maria Boulton says people should opt to wear masks in public places such as large crowds, planes, and medical settings to slow the spread of COVID before Christmas.
Dr. Boulton called on Queensland's Chief Medical Officer (CHO) Dr. John Gerrard to provide guidance to the public on how to avoid a "disastrous Christmas" holiday. "The public should be encouraged to mask up in medical settings, planes, or in crowds in the lead-up to big Christmas gatherings," she told The Courier-Mail. "Of course, a mask mandate would be the decision of the CHO but hospitalizations are rising and the health workforce is stretched to breaking point and cannot cope with another overload of patients over the holidays."
Stock up on long-term storage beef before prices SKYROCKET. 10+ year shelf life, premium cuts, all-American, no mRNA jabs. Promo code "cleancows" at Freedom First Beef.
Queensland is currently in its fourth week of the latest COVID wave to strike Australia with 122 people hospitalized with the virus, which is up from 74 people last month, if the ruling class's numbers can be trusted.
Dr. Gerrard discarded the idea of another mask mandate saying this current wave will be over by Christmas, and people shouldn't be too concerned. "Covid-19 is now an ongoing part of our reality, much like other acute respiratory illnesses such as influenza and RSV," Dr Gerrard said, according to the Daily Mail UK.
It's interesting that Australia is even having another wave of COVID-19, considering over 95% of people over the age of 12 are fully "vaccinated" in the country. In Victoria, it is recommended that the slave class take another booster shot.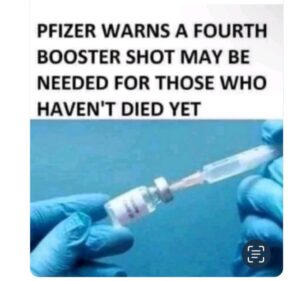 Acting health chief health officer in Victoria, Dr. Christian McGrath has urged Melbourne residents to wear masks in some high-risk settings, and get another "vaccine." Dr. McGrath said the best way for people to protect themselves amid rising cases was to wear a mask, get a booster jab if they're eligible, and keep their windows open.
The economy is tanking and a
"Digital Dollar"
is in the works. Don't procrastinate. Move wealth and retirement funds to physical precious metals and/or a self-directed IRA with America First companies who aren't helping Democrats, the WEF, or the CCP. Here are
four such companies who can help you immediately
.
The push to get injected is still ongoing while mainstream media really tries to panic the masses into it. Who knows when this will explode, but it doesn't look like it's over just yet.